Electrical and Electronics Engineering
The Department was started in the year 2008 with an objective of creating a leader in engineering education and research with the application of knowledge for uplifting the society globally. Initially, the Department was started with an intake of 60 students and later it was increased to 120 students in the year 2011.The Department inaugurated IEEE students' chapter in the year 2012. The faculty members are consistently doing well in teaching and research activities. The Department had well established and equipped laboratories like Electrical Machines Lab, Power Electronics Lab, Power System Simulation Lab, Microprocessor Lab & Measurements and Instrumentation Lab. The Department provides exposure to the students with hands-on experience on various Electrical Engineering subjects to face the challenges of the modern corporate world and to mould them as responsible citizens of the country with a willingness to serve the society.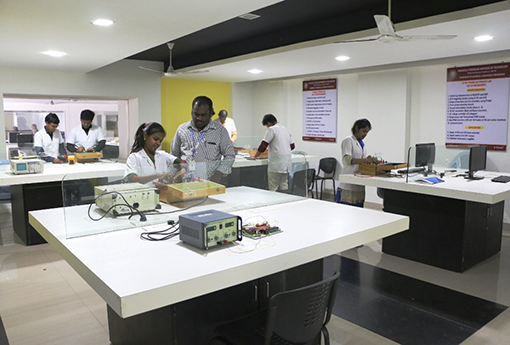 Programmes Offered
| Programme | Intake |
| --- | --- |
| B.Tech – Electrical and Electronics Engineering | 120 |
Vision and Mission
Vision
To create comprehensive electrical engineers to meet up the growing technological demands of the society.
Mission
Department of Electrical and Electronics Engineering is committed.
Higher Order Thinking: To impart high quality education to help the students hone their professional skills.
Competency: To improve the competencies of students and faculties on contemporary technologies through continuous improvement programs.
Continuous learning: To undertake research on frontier areas of electrical and electronics engineering.
Entrepreneurship: To imbibe the spirit of innovation and entrepreneurship among the students.
Programme Educational Objectives(PEO)
Electrical and Electronics Engineering will
PEO1: Employability: Graduates will have the ability to demonstrate skills in developing innovative ideas, and in providing effective solutions to complex engineering problems thereby being productive and participative global citizens.
PEO2: Higher Education: Our graduates will have the ability and confidence to pursue higher education or exhibit professionalism in the career or take up entrepreneurial accomplishments.
PEO3: Entrepreneurship: Our graduates will engage themselves in life-long learning thereby keeping themselves abreast of the contemporary issues.
PEO4: Ethical: Our graduates will have the technical competency to involve in multidisciplinary research within the suitable technological, global, societal, ethical, economical, environmental and organizational context.
Program Outcomes (PO)
PO1: Engineering knowledge: Apply the knowledge of mathematics, science, engineering fundamentals, and an engineering specialization to the solution of complex engineering problems.
PO2: Problem analysis: Identify, formulate, review research literature, and analyze complex engineering problems reaching substantiated conclusions using first principles of mathematics, natural sciences, and engineering sciences.
PO3: Design/development of solutions: Design solutions for complex engineering problems and design system components or processes that meet the specified needs with appropriate consideration for the public health and safety, and the cultural, societal and environmental considerations.
PO4: Conduct investigations of complex problems: Use research-based knowledge and research methods including design of experiments, analysis and interpretation of data, and synthesis of the information to provide valid conclusions.
PO5: Modern tool usage: Create, select, and apply appropriate techniques, resources, and modern engineering and IT tools including prediction and modeling to complex engineering activities with an understanding of the limitations.
PO6: The engineer and society: Apply reasoning informed by the contextual knowledge to assess societal, health, safety, legal and cultural issues and the consequent responsibilities relevant to the professional engineering practice.
PO7: Environment and sustainability: Understand the impact of the professional engineering solutions in societal and environmental contexts, and demonstrate the knowledge of, and need for sustainable development.
PO8: Ethics: Apply ethical principles and commit to professional ethics and responsibilities and norms of the engineering practice.
PO9: Individual and team work: Function effectively as an individual, and as a member or leader in diverse teams, and in multidisciplinary settings.
PO10: Communication:Communicate effectively on complex engineering activities with the engineering community and with society at large, such as, being able to comprehend and write effective reports and design documentation, make effective presentations, and give and receive clear instructions.
PO11: Project management and finance: Demonstrate knowledge and understanding of the engineering and management principles and apply these to one's own work, as a member and leader in a team, to manage projects and in multidisciplinary environments.
PO12: Life-long learning: Recognize the need for, and have the preparation and ability to engage in independent and life-long learning in the broadest context of technological change.
Program Specific Outcomes (PSO)
PSO1: Products Development: An ability to design, analysis and to implement power electronics converters in renewable energy applications.
PSO2: Design Thinking: A capability to design and examine the power system and to solve the unit commitment with various constraints.
Faculty
The faculties of the Electrical and Electronics Engineering department are some of the brightest minds in their fields of Knowledge. The faculty incorporates interdisciplinary and innovative approaches into the curriculum to balance traditional learning with practical application. These faculties teach undergraduate students, and conduct research programs, seminars, symposiums, national level conference, guest lecturers & workshops. The faculty members contribute and dedicate in receiving grants from various Professional societies like AICTE, CSIR, MNRE, DRDO and UGC. We received grant of Rs.5Lakhs from AICTE to organize Faculty Development Program. They also extend their centre of excellence in modernizing the labs in the department with Independent Power Sources. The faculties also extended their support for conducting Rural Development Programme to create electrical awareness to the people of nearby areas.
Faculty List
| | | | | | |
| --- | --- | --- | --- | --- | --- |
| Sl.no | Name of the Faculty | Qulification | Designation | Specialization | Date of Joining |
| 1 | Dr.C.SHANMUGASUNDARAM | Ph.D., | PROFESSOR / HOD | POWER SYSTEM | 20-11-09 |
| 2 | Dr.G.RENUKA DEVI | Ph.D., | ASSOCIATE PROFESSOR | ELECTRICAL DRIVES AND CONTROL | 20-05-15 |
| 3 | Dr.K.SEDHURAMAN | Ph.D., | ASSOCIATE PROFESSOR | ELECTRICAL DRIVES AND CONTROL | 22-08-13 |
| 4 | Mr.S.RAJKUMAR | M.E., | ASST PROFESSOR | POWER ELECTRONICS & DRIVES | 13-06-08 |
| 5 | Mr.N.ARUN KUMAR | M.Tech., | ASST PROFESSOR | POWER ELECTRONICS & DRIVES | 16-05-12 |
| 6 | Mr.N.AMARABALAN | M.E., | ASST PROFESSOR | POWER ELECTRONICS & DRIVES | 10-06-09 |
| 7 | Mr.D.BALAJI | M.Tech., | ASST PROFESSOR | ELECTRICAL DRIVES AND CONTROL | 18-01-10 |
| 8 | Mrs.N.SARUMATHI | M.Tech., | ASST PROFESSOR (SG) | APPLIED ELECTRONICS | 07-06-10 |
| 9 | Mr.D.MURUGANANDHAN | M.Tech., | ASST PROFESSOR | ELECTRIC DRIVES AND CONTROL | 16-05-12 |
| 10 | Mrs.R.UMAMAHESWARI | M.E., | ASST PROFESSOR | POWER ELECTRONICS & DRIVES | 17-11-14 |
| 11 | Mrs.V.THEBINAA | M.Tech., | ASST PROFESSOR | POWER SYSTEM | 04-06-12 |
| 12 | Mrs.S.SANTHALAKSHMY | M.Tech., | ASST PROFESSOR | ELECTRICAL DRIVES AND CONTROL | 22-08-13 |
| 13 | Mrs.R.MUTHUNAGAI | M.Tech., | ASST PROFESSOR | POWER ELECTRONICS & DRIVES | 16-07-14 |
| 14 | Mr.L.SANTHANA KRISHNAN | M.Tech., | ASST PROFESSOR | POWER ELECTRONICS & DRIVES | 31-05-14 |
| 15 | Mr.R.ARULJOTHI RAJ | M.Tech., | ASST PROFESSOR | ELECTRICAL DRIVES AND CONTROL | 02-06-18 |
| 16 | Mrs.R.PRIYA | M.E., | ASST PROFESSOR | POWER ELECTRONICS & DRIVES | 29-12-14 |
| 17 | Mr.S.KANNAN | M.Tech., | ASST PROFESSOR | GREEN ENERGY | 13-06-18 |
| 18 | Mr.M.IYYAPPAN | M.Tech., | ASST PROFESSOR | ELECTRICAL DRIVES AND CONTROL | 20-06-18 |
Core Competencies
• Electrical Machines
• Electronic devices and circuits
• Power electronics
• Power system
• Measurement and Instrumentation
Infrastructure
The department provides extensive computing resources for research and education. The department has wireless internet connectivity via a campus-wide 802.11b network to the laptops.
Laboratories with photos
Placement
BATCH WISE PLACEMENT STATISTICS (click below to view pdf )
News and Events
Major Events
• 15th September 2018 One Day National Level Workshop on "Embedded Controller for Solar Energy System" in association with Centre for Renewable Energy, Annamalai University. | Invitation | Brochure |
• One day workshop on "Fabrication of solar panel" by Mr.S.Kannan, Greenergy Pvt.ltd. Puducherry on August last week 2018
• Guest lecture on "Solar Technology" by Mr.Prasunkumar Das, Assistant Director, NIWE, Chennai on September 1st week 2018
• One day workshop on "Electrical Safety" by Mr.Muthukumar, Deputy Director, NPTI, Neyveli on September 2nd week 2018
• MOU in Pipelines "AXIS GLOBAL AUTOMATION" Chennai in the month of August 2018
• MOU in Pipelines "SUNLIT FUTURE" auroville, Puducherry in the month of August 2018
Extra Curricular events
CoCurricular events
Newsletter
Curriculum and Syllabi
MoU
DEPARTMENT OF ELECTRICAL & ELECTRONICS ENGINEERING 2017-2018(ODD SEM)
| | | | |
| --- | --- | --- | --- |
| SL.No. | Name of the Organization | Date | Purpose of MoU |
| 1 | Pantech Prolabs India Pvt Ltd. | 09.08.2017 | Students project, faculty training, expert lectures, Industrial visits |
| 2 | TREND Instumentation and Automation Pvt Ltd. | 15.07.2017 | Students project, faculty training, expert lectures, Industrial visits |
| 3 | Greenergy Pvt.ltd., Puducherry | 23.11.2016 | Students project, faculty training, expert lectures, Industrial visits |
| 4 | Vi Microsystems,Chennai | 28.11.2015 | Students project, faculty training, expert lectures, Industrial visits |
| 5 | Phocos India Solar Pvt.Ltd.,Puducherry. | 12.05.2014 | Students project, faculty training, expert lectures, Industrial visits, recruitment |
Industry Interaction
Industry- Institute Interaction Cell
Better interaction between Technical institutions and industry is the need of the hour. This will have great bearing on the Engineering Curriculum, exposure of industrial atmosphere to engineering students and subsequent placement of young graduating engineers in industries across the country. With the advent of globalization and opening up of Indian economy to outside world, competition among industries has become stiff. To solve their engineering problems they look up now to engineering Institutions. Similarly, there is an urgent need to prepare engineering students for jobs in multinational companies, by exposing them to newer technologies and engineering methodologies. These objectives can only be achieved well by bridging the gap between industry and the academic institute.
To Promote Industry – Institute Interaction Following Schemes Are Being Undertaken
1. Arranging in-plant training, industrial visit, expert lectures based on the requirements.
2. Facilitating the Faculty members to visit the industries and get exposure on industrial practices.
3. To assist the Departments in organizing workshops, conferences and symposia in collaboration with industries and take up industry supported mini projects and projects.
4. Facilitate the faculty members to involve in consultancy activities.
5. To create 'Centre for Excellence' and R&D Laboratories with the support of Industries.
6. Arranging for MoUs between the institute and industries.
7. Arranging for students training on latest technologies and also on soft skills and inviting the industries for campus recruitment.
Industrial Visit:
Industrial Training
Contact Us
Dr. C.SHANMUGA SUNDARAM,
Professor & Head,
Department of Electrical and Electronics Engineering,
Manakula Vinayagar Institute of Technology
Kalitheerthalkuppam,Puducherry – 605 107
Phone : 0413-2643007
Fax : 2643008, 2643014 , Extn : 2219
Email : shanmugasundarameee@mvit.edu.in