Principal Message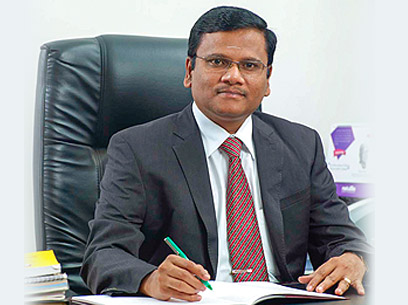 Dear Students,
My heartiest welcome to all the young and budding Engineers who have joined in Manakula Vinayagar Institute of Technology (MVIT). With the guidance of our respected Chairman and Vice Chairman, with the help of highly qualified and dedicated faculty team, we will be moulding the students to the required shape which will make them industry-ready, employable and well disciplined.
The Manakula Vinayagar Institute of Technology will strive hard to provide pleasant ambience and conducive atmosphere for moulding the young minds to scale greater heights in their chosen field of study. In our college we give top priority to academic excellence, innovation, and discipline. An effective Training and Placement Cell is in place to provide placement to all our students. Focus is given to Extra Curricular and Co-Curricular activities through various clubs and societies instituted to augment the students skills and knowledge.
A state-of-the-art and up-to-date infrastructure facilities and good learning atmosphere are the hallmarks of our Institution. I hope all the students admitted in this Institution will enjoy their study in the campus. Let us all come together, build together, and achieve together with the blessings of Almighty for Tomorrow's India.
With regards Dr.S.Malarkkan Principal, MVIT