Placement Cell
TRAINING & PLACEMENT DIVISION
Objective:
The college has established a full-fledged Training and Placement cell, which monitors the employment opportunities and arranges campus interviews for the pre final year and final year students. Placement cell edifies all the managerial traits, which are required for the students and prepares the students according to the requirement of the industry.
The placement cell also helps to sign MOU with reputed organizations and universities in India and abroad for exchange of knowledge and latest technology.
Vision:
Our vision is to develop learning blended with excellence to create leadership for tomorrow and to provide motivated, skilled, intellectual and technically competent manpower catering globally to the industry and service organizations.
Mission:
Our mission is to make every outgoing student to have post-academic, career or business engagement to his caliber and to develop globally competitive students, who are also compatible with the needs of changing society. We offer wide range of educational programs, developmental activities and linkage with the user systems
ACCREDITATION
Our college is accredited by the prestigious IT giant TCS
CENTER OF EXCELLENCE
IBM CoE
Our college is the only college in Puducherry to have IBM center of Excellence.
By this COE students are trained in various cutting edge IBM products like DB2, RAD, TIVOLI
Students participate in "The Great Mind Challenge" a nationwide programming contest conducted by IBM
CISCO Networking Academy Students are trained on networking concepts and technology by this center and are certified by CISCO
TRAINING DIVISION
TRAINING PROGRAMS & ACTIVITIES
Training and Placement Cell offers Career Development Program for the students who are raring to enter the corporate world and introduce them to the prospective employers according to their aspirations and background.
The Training programs have been formulated after a having a wide discussion with various industrial and academic expert to suit to the need of the industry and students
We impart the training programs with the help of reputed training Institutes. They enable our students to gain a competitive edge in their career, groom their confidence and develop their personality
Inspires the students to participate in co-curricular and extra-curricular activities.
Encourages the students to participate in various competition conducted by major corporate houses.
Arranges guest lectures by eminent personalities from industry and various walk of like to keep the students abreast of the latest happening in the industry.
It always aims to bridge the gap between Industry and academia
Creates awareness about higher studies opportunities and arranges coaching for CAT,GATE, GRE, TOEFL, IELTS, IAS, IES, IFS etc..,
To enhance the technical knowledge of the students we also arrange value added courses according to the industrial requirement and the interests of the students.
The following training modules are formulated to improve the students' skills
Aptitude Training
Logical Reasoning
Communication skills
Personal Grooming
Time Management
Presentation Skills
Inter and intra personal Skills
Team Building
Group Discussion
Planning & Goal Setting
VALUE ADDED COURSES
The following value added courses are conducted in the campus:
JAVA,
DOT NET,
Embedded Systems,
ORACLE,
CCNA,
Lab view,
ANSYS,
Pro-E,
CAD/CAM,
MATLAB,
PSPICE,
PLC,
SCADA
NDT etc..,
OUR TRAINERS
Blue lotus, Chennai
Morphose, Puducherry
Chakrika info solutions
Innovative Services
Smart Training
Neolysi Technologies (P)ltd
Pantech ProEd Pvt Ltd
Feltron Systems India Pvt ltd
PLACEMENT DIVISION ACTIVITIES The placement division functions round the clock throughout the year. It establishes contacts with reputed multinational companies, core industries, R & D organizations and also plays an important role in locating various job opportunities and placing large number of our students. It helps the students in finding In plant training, Industrial Visits and arranges Internship program for the MBA graduates.
VARIOUS MOUS SIGNED WITH INDUSTRY
IBM center of Excellence
Infosys Campus Connect
CISCO Networking Academy
SUN Academic Alliance
EMC2
Academic Alliance
Mindlogix Bangalore
Sutherland Global Services
LIST OF RECENT RECRUITERS
TATA CONSULTANCY SERVICES
COGNIZANT TECHNOLOGY SERVICES
Wipro Technologies
Mahindra Satyam
Infosys
Hexaware Technologies
Tata Elxsi
Avalon Technologies
Mphasis
Mbit Wireless
Lucas TVS
TVS Bridgestone
First Engineering
Gaea Technologies
I Gate Global Solutions
Birlasoft
L&T Infotech
SAGE IT
Accenture
Honeywell
Subex

UV Energy Systems
Syntel
AMI
Our Team
| | |
| --- | --- |
| Placement Dean | DR.S.MALARKKAN PRINCIPAL |
| Placement Advisor | DR.B. RADJARAMAN PROFESSOR |
| Placement Officer | MR. M.JAYEKUMAR ASSOCIATE PROFESSOR |
| Assistant Placement Officer | Mr.VAIDHEESWARAN.S Asst. Professor/ MBA |
| Placement Coordinators | Mr. S.RAJKUMAR Asst. Professor/ EEE |
| | Mr.P. L.SANTHANA KRISHNAN Asst. Professor/ EEE – B |
| | Miss. S. PADMAPRIYA Asst. Professor/ ECE – A |
| | Mr.K. KUMARAN Asst. Professor/ ECE – B |
| | Mr.P. ANANDJAYAM Asst. Professor/ CSE – A |
| | Mr.D. LUBIN BALASUBRAMANIAN Asst. Professor/ CSE – B |
| | Mr.S. UTHAYASHANGAR Asst. Professor/ IT |
| | Mr.K. KARTHIGAYAN Asst. Professor/ Mech. |
Training Activities
Continuous Soft Skill Training Programmes being conducted from II year onwards, in various modules like:
Spoken English
Communication Skill Enhancement
Effective Placement Training (includes Personality Development Program)
Model Aptitude Tests
Group Discussions
Mock Interviews
Attitude Development
Personality Reengineering and Interpersonal Skills
Time Management
Team Building
Communicate with Impact
Lateral and Creative Thinking
Decision Making and Problem Solving Skills
The training programmes have been formulated after a thorough and careful analysis of unique requirement of various companies and tailored to best suit to the students' profile. Training programmes are conducted by the premier institutions in that industry with high profile trainers having vast experience to enable our students to gain a competitive edge in the recruitment process, groom their confidence and develop their overall personality.
Excellent support provided to the students with Placement Question Bank, Aptitude, Verbal & Non-verbal, Puzzles books and Basic Technical question & answer booklets. Facilitates the students to participate in the placement meetings conducted by the companies to recognize the need and requirements for recruitment of the companies, and to participate in the campus recruitment of the organizations.
Facilitates strengthening of INDUSTRY INSTITUTE INTERACTION which bridges the gap between industry and academic institute. The activities include:
In-plant Training
Industrial Visits
Student Projects

Consultancy Services
Training for faculty and Technical staff
Our Trainers
Aptitude Training Conducted by :
Innovative Services, Chennai
FACE Academy, Coimbatore
SMART Training Academy, Chennai
AFAN Services, Puducherry
BSK Institute, Puducherry
Soft Skill Training Conducted by :
Blue Lotus, Chennai
RIPE, Chennai
Innovative Services, Chennai
Raviramanathan Training Institute, Chennai
Soft Skill Academy, Chennai
Studio-S, Chennai.
AFAN Services, Puducherry
SEED, Chennai
Value added Courses Conducted by:
NIIT Puducherry is conducting a short term course on C# and .NET
IBM & C-DAC is conducting a short term course on C and C++

Chakrika Info Solutions & CMC Academy is conducting short term course on JAVA
GREYWIRE TECHNOLOGIES is conducting short term course on EMBEDDED SYSTEMS

Ocean Academy, Puducherry.
Our Recruiters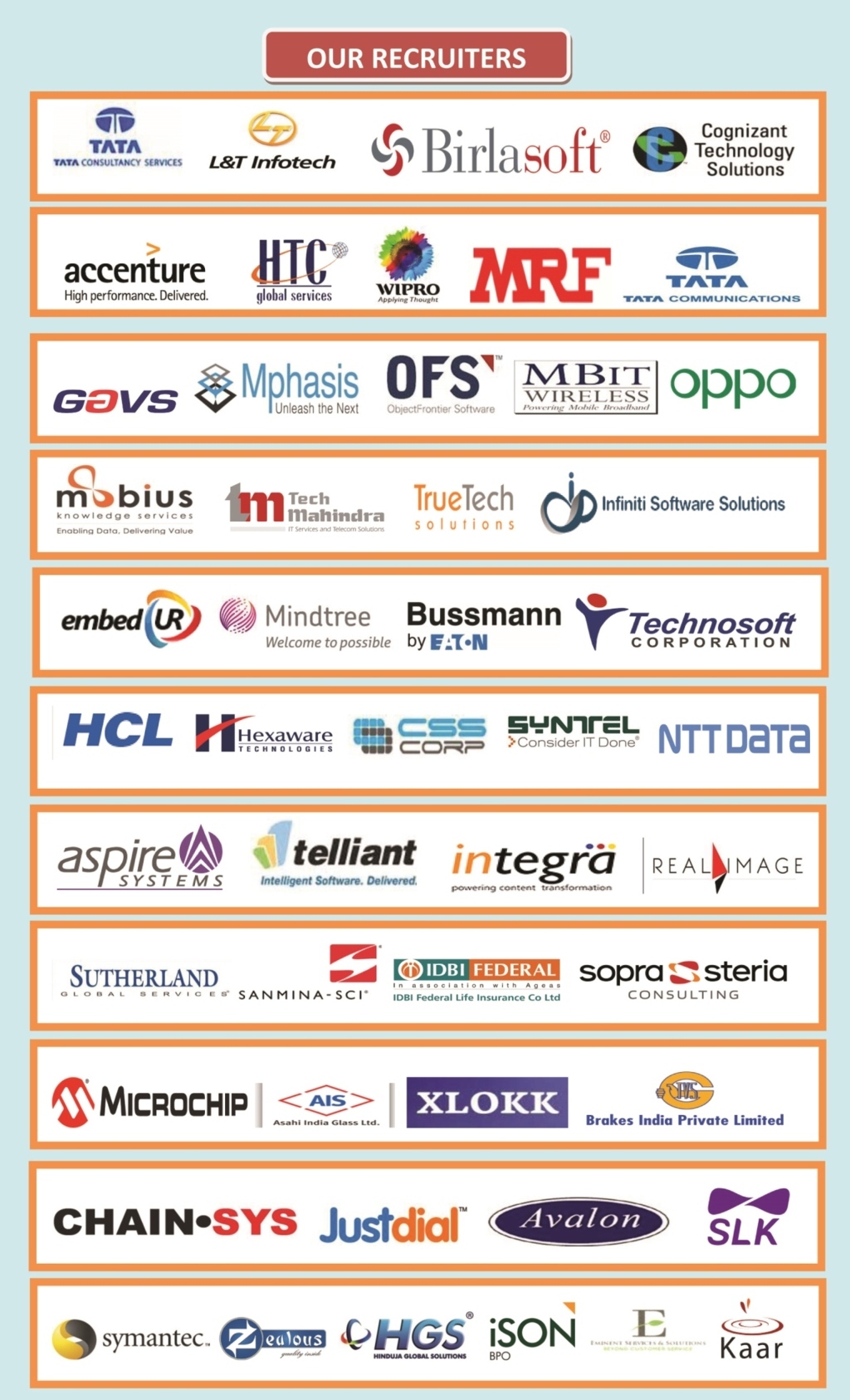 Placement Record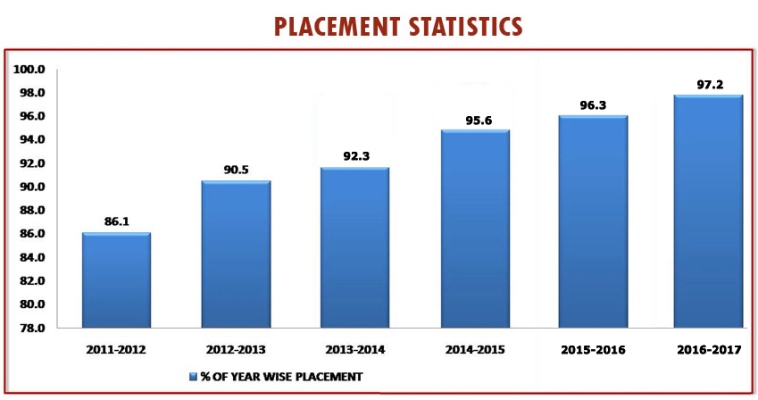 Contact Info
Mr. M. Jayekumar
Placement Officer
Manakula Vinayagar Institute of Technology,
Kalitheerthalkuppam,
Puducherry – 605 107
Phone : 0413 – 2643007 Ext.: 2214 Mobile : 98438 11670,
Fax : 0413 – 2643008, 2643014
E-Mail: placement@mvit.edu.in,
placementatmit@gmail.com,
jayekumar@yahoo.com